Introduction
An extension to the RAMD method for calculating relative residence times (τ) for a set of small molecules bound to a target protein.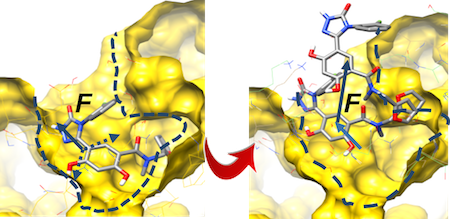 τRAMD extends the RAMD method to accelerate the egress of a set of small molecules from a target receptor. Slower dissociating molecules take longer to leave the binding pocket, or require application of a stronger force to exit within a specified simulation time. Similarly, molecules with higher dissociation rates make their exit the binding pocket more quickly, and require comparatively smaller forces for egress to occur within a defined simulation time. Thus, τRAMD may provide a computationally efficient approach to obtain relative estimates of dissociation rate constants.
Software and instructions for running RAMD and τRAMD simulations in NAMD can be found here.
References:
1. Kokh DB et. al. Estimation of Drug-Target Residence Times by τ-Random Acceleration Molecular Dynamics Simulations. J. Chem. Theory Comput. 2018; 14(7): 3859-3869 DOI: 10.1021/acs.jctc.8b00230
Computational Tools
τ-Random Acceleration Molecular Dynamics (τRAMD) can be performed using the following software tools:
Example Cases
For examples of previously performed studies in which τ-Random Acceleration Molecular Dynamics (τRAMD) was the primary method used, see the following example cases:
Tutorials
The folowing tutorials describe the use of τ-Random Acceleration Molecular Dynamics (τRAMD):